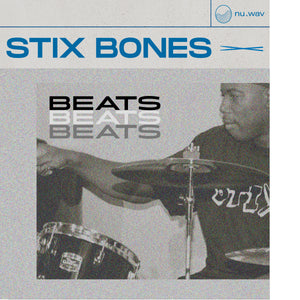 nu.wav presents: Stix Bones Beats - Sample Pack
Stix Bones is a Brooklyn native drummer and producer, who's instrumental breakbeat tracks have been heard on Jazz radio and club DJ mix shows worldwide. Stix started his career touring playing drums behind Rahzel The Godfather of Noise in the UK and France and traveling the US drumming for 5 time Showtime at the Apollo winner/Author/Poet Jessica Care Moore. Shortly after Stix became music director for Lyricist Lounge and collaborated with legendary Hip Hop acts such as DJ Maseo of  De La Soul, Wordsworth, D.V. Alias Khryst and Imani Coppola.  Stix became the drummer for internationally known group Soulfege. Lead by former Oprah Winfrey XM Sirius host Derrick N. Ashong. He has had the privilege to record two award-winning albums with  Derrick N. Ashong & Soulfege and produce music for their Emmy nominated Take Back The Mic web series. 
Stix Bones' sample pack is packed with unique drum sounds, Ableton Drum Racks, groovy bass lines, keys and effects for beat-makers who want to bring something authentic and reminiscent of the boom-bap era to their production. If you can't be first, be different!
***This pack features 2 Ableton Drum Racks (v10.1 and above). The following playlist includes the demo for the pack and 2 short demos showcasing the sounds available within.